Mission Statement: Our Free Range Future
Find out about our promise as a business to work towards a sustainable and green future.
A Responsible Business
What is Corporate Responsibility?
Corporate Responsibility (CR) refers to a self-regulatory, voluntary business model which positions a business as accountable, and committed to enhancing; the social, environmental, and financial implications of its actions to all stakeholders*.  Our policy aims to ensure the business exceeds legislative duties where possible and is open to sharing and learning from others in a continuous cycle of improvement.
*All stakeholders - staff, customers, supply chain, local community, national and international communities, and future generations.
Bluestone's Promise: A Free Range Future
We take our commitment to the environment and a sustainable future seriously, and in recognition of this, a new department to oversee all aspects of Bluestone's Corporate Social Responsibility was established in January 2019. The aim of the department is to consolidate all issues around Sustainable development, environmental, social, and ethical practices, forming our basis to build a Free Range Future.
The remit of the department is to take Bluestone into a position of sector leadership, to be continually progressive, and to share best practices wherever possible. Operating learning and sharing ethos, supporting greater understanding and the enhancement of Sustainable Development, engaging both sector and cross-sector partners, and the wider community at large.
What is Free Range?
 The 'Free Range' ethos runs through everything we do at Bluestone, from our energy policy to the food on our menus. With Bluestone, you get the freedom to roam, good food proudly sourced from Pembrokeshire, thoughtful care, and a place you really feel at home.
It's why we're different and it's what we're proud of. We're in the middle of the Pembrokeshire Coast National Park, surrounded by incredible countryside, beaches, wildlife, and history - so we've got a lot to live up to.
At Bluestone, we're passionate about our mission to provide:
- A spirited visitor experience
- Inspiring memories in beautiful surroundings
- Ensuring guests leave with their inner selves relaxed and refreshed
Building a Free Range Future
 Our 'Free Range' Manifesto embodies our mission, and the embedding of Corporate Responsibility in our business model supports Free-Ranging; locally, regionally, globally, and right here at Bluestone National Park Resort - now and into the future.
In order to bring about the culture change and the momentum of the entire business towards Sustainable Development, we have created the Free Range Future movement within Bluestone. Free Range Future permeates all aspects of Bluestone, informing and guiding the business as it escalates towards an apex of responsibility. 
"Bluestone National Park Resort (Bluestone) will seek to enrich the natural environment and create a net increase in the diversity of both habitats and species. Empathy with the natural world will be quite literally, at the heart of this holiday experience. Bluestone's ethos has to be the care of its natural environment and it is this dependence that will drive the need to conserve and enhance the vitality of the surrounding countryside, as well as increasing the public understanding and enjoyment of it, both now and far into the future.
The positive economic impact of Bluestone is very significant to Pembrokeshire but not at the expense of the environment." 
William McNamara, Founder, and CEO, Bluestone Resorts Ltd
 .
Embedding Responsibility
"In a world where everyone is so busy and there is little time for families to be together, Bluestone provides an opportunity where you can stop, just for a while, and recharge.  Bluestone is a place where loved ones reconnect, where we make people smile."
Planet and People-Centric
Free Range Future is built on The Bluestone Way; a business ethic based on focus through three lenses; People, Product, and Profit. Since its conception in 2008 the core values of Bluestone have stood on these 3 solid pillars which mirror the three core elements of Sustainable Development: Social – Environmental – Economic.
People: our staff, our guests, and all our stakeholders – every person counts.
Product: spirited visitor experiences, inspired memories, excellent service, national park, Free Range Fun.
Profit: if we look after our people and our product, our profits will look after the business in the future, creating more opportunities for our people and our product to thrive.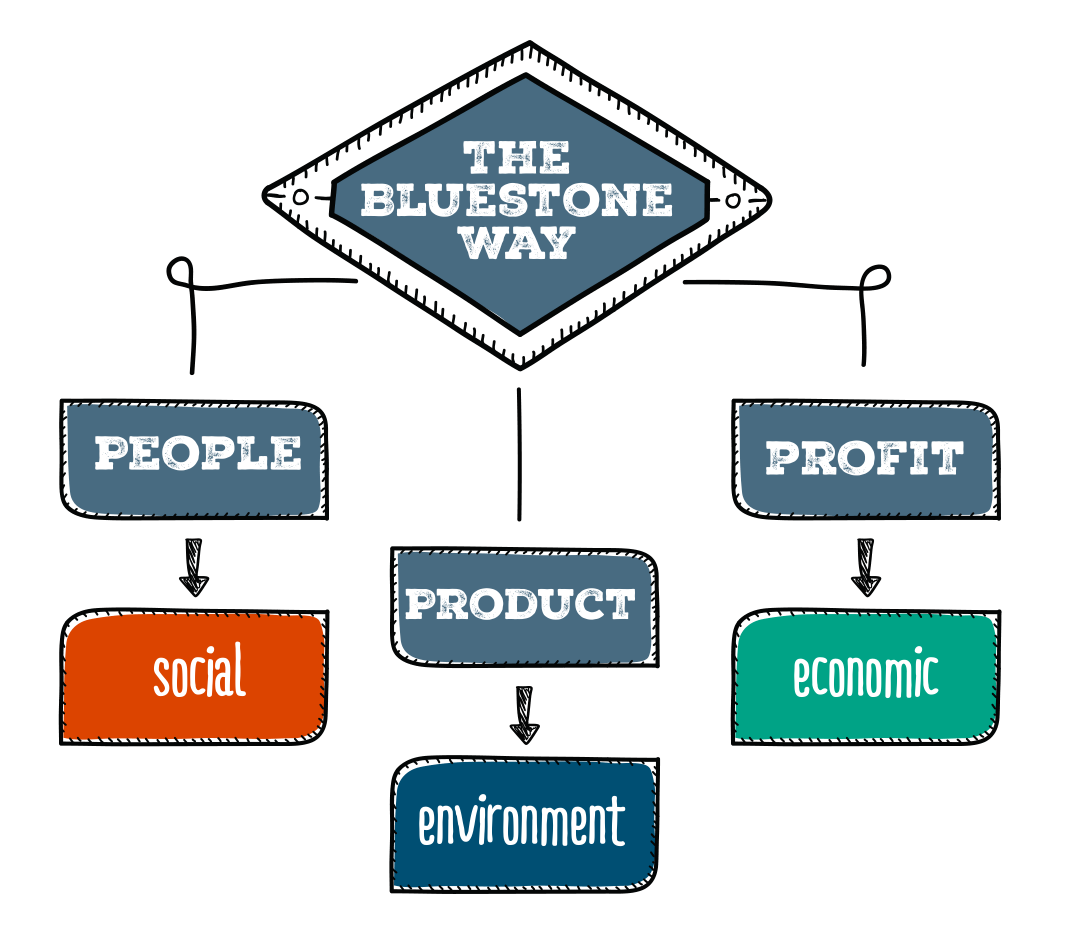 Brand Values
Responsibility and sustainable development are at the heart of Bluestone's brand values.
The principles on which the business operates today have been its building blocks since before we opened in 2008. Founder William McNamara penned these values prior to shaping the business model, and Bluestone has checked itself against them at every step of its journey.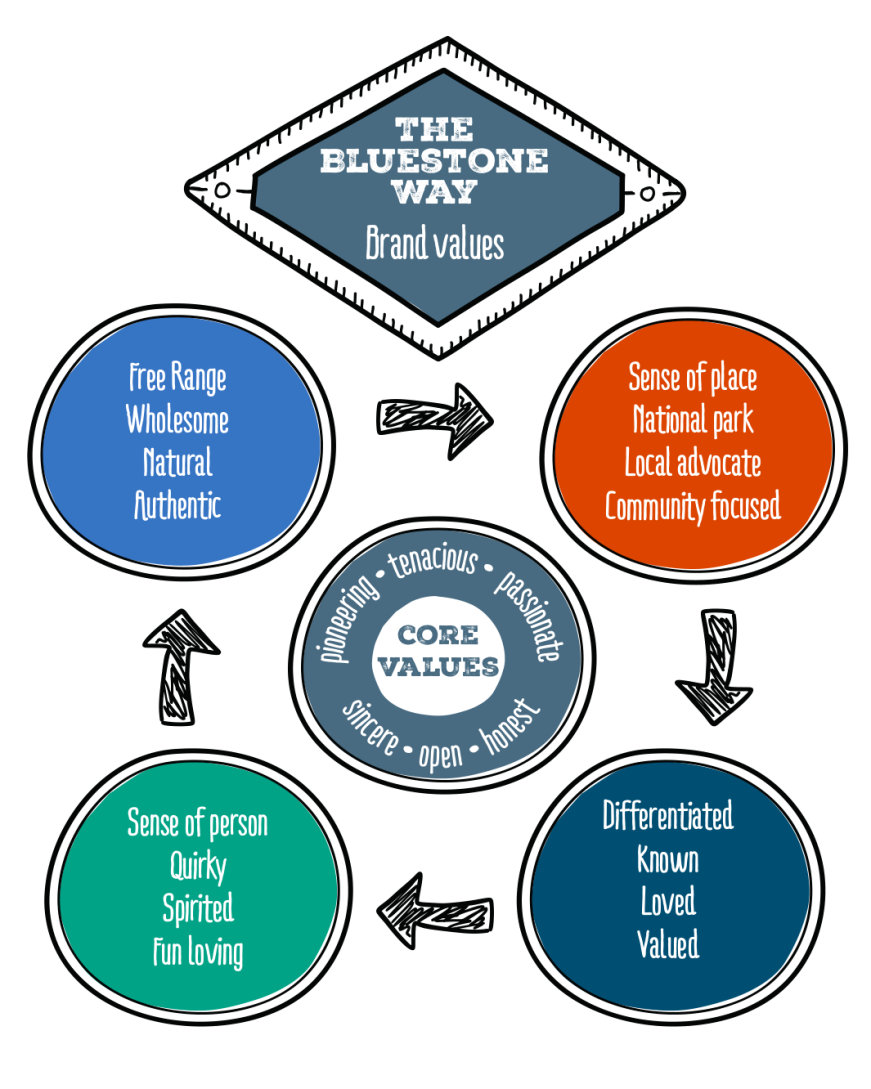 Proving our commitment 
While our mission to build a Free Range Future is far from over, we're already making a difference. Since opening in 2008 we've partnered with numerous organisations and been rewarded for our work in sustainability and the environment, these include: 
Green Key - Accredited
Business in the Community - Member
Pembrokeshire Nature Partnership – Member
WRAP Food Road Map - Member
WRAP Guardians of Grub - Member
Don't take it from us that we're committed to a Free Range Future, here's what some of the organisations we work closest with think of our progress. 
Sophie Howe, Future Generations Commissioner:
" I have been very impressed with the way in which Bluestone are embracing sustainability and the Wellbeing of Future Generations Act, from reducing their general waste by over 40%, to enhancing biodiversity, and working with public services during the pandemic - there are lots for others to learn from them. I hope that they will now take their good work even further."
Ant Rogers, Biodiversity Implementation Officer, Pembrokeshire Nature Partnership:
"Bluestone are valued members of the Pembrokeshire Nature Partnership, working together to promote natural recovery in our county. The transformation at Bluestone from a dairy farm to a nature-based resort has seen increases in biodiversity and the contribution the site makes to wider ecological networks.
The work that has been done to develop habitats and enhance the natural assets has taken place with reference to local and national Nature Recovery Action Plans.
This most recent Biodiversity Action Plan for Bluestone is both comprehensive and aspirational. I am very happy to provide this foreword for the 2021 BAP, and look forward to working with the team at Bluestone over the coming years."
Discover More